The spirit of Scotland
Monday 27th November
Whisky: the creation of a nation
Do you think of whisky as Scotland's national drink?
Whether or not whisky is the tipple of choice in Scottish households, Scotland's tourism industry is keen to market whisky as being representative of Scottish national identity. Scotch is now Scotland's biggest food and drink export.
To find out more, we took a trip to Glenkinchie Distillery, just outside Edinburgh. Founded in 1837, it is one of very few producers in the Lowland region. They are now owned by drinks giant, Diageo, and their whisky is used in both single malts and blends. Tourism is clearly a key part of the business, with far more tour guides than distillery workers, and we had Clive with us today to show us around.
Clive began by talking us through the three ingredients in Glenkinchie whisky: water, yeast and malted barley. Their barley is from independent farmers and is malted in Berwick. Before the 1960s, they malted the barley themselves, until the company grew in size, now getting through 18 tonnes of grain per day, causing them to subcontract. The barley is 80% Scottish, although we were told that it is not important where it comes from. I suppose whether or not you agree with that depends on how much you want your Scotch to be Scottish, and how bothered you are by the provenance of your food and drink.
Hot, dry air is passed through the malted grain. At Glenkinchie, gas is used as the fuel, however other companies might use peat at this stage to impart a smoky flavour. The malted barley is then turned into grist, comprising 10% flour, 20% husk and 70% grit, before being transferred to the mash tun and combined with water. 40,000 litres of liquid is subjected to various temperatures so that different enzymes can begin to work on turning the starch to sugar. Yeast is then added to the sugary liquid, called the wort, and moved to the washbacks. Used grist is sold as draff to farmers for animal feed, as we saw in Mull at the cheese factory. The wooden washbacks are in the fermentation room, where you could smell the alcohol forming and see the liquid bubbling up like big soapy baths. After 88 hours, the liquid reaches 9% ABV (alcohol by volume).
The liquid then travels to the copper stills, the first producing low wines of 23% ABV and the second raising the alcoholic content to a maximum of 70% ABV. The alcohol content is tested in the spirit safe, which is kept under lock and key, the keys being owned by the UK tax authority to stop theft, as tax is only paid once the product is bottled.
From here, the clear liquid is moved to oak casks that have previously been used in the production of bourbon in America. The whisky matures here for twelve years before being mixed with water to achieve a 43% ABV. Glenkinchie produces four single malts, however 92% of their production goes into blended whiskies. After a tasting and a group photo, we headed back with our whisky glasses for more discussion.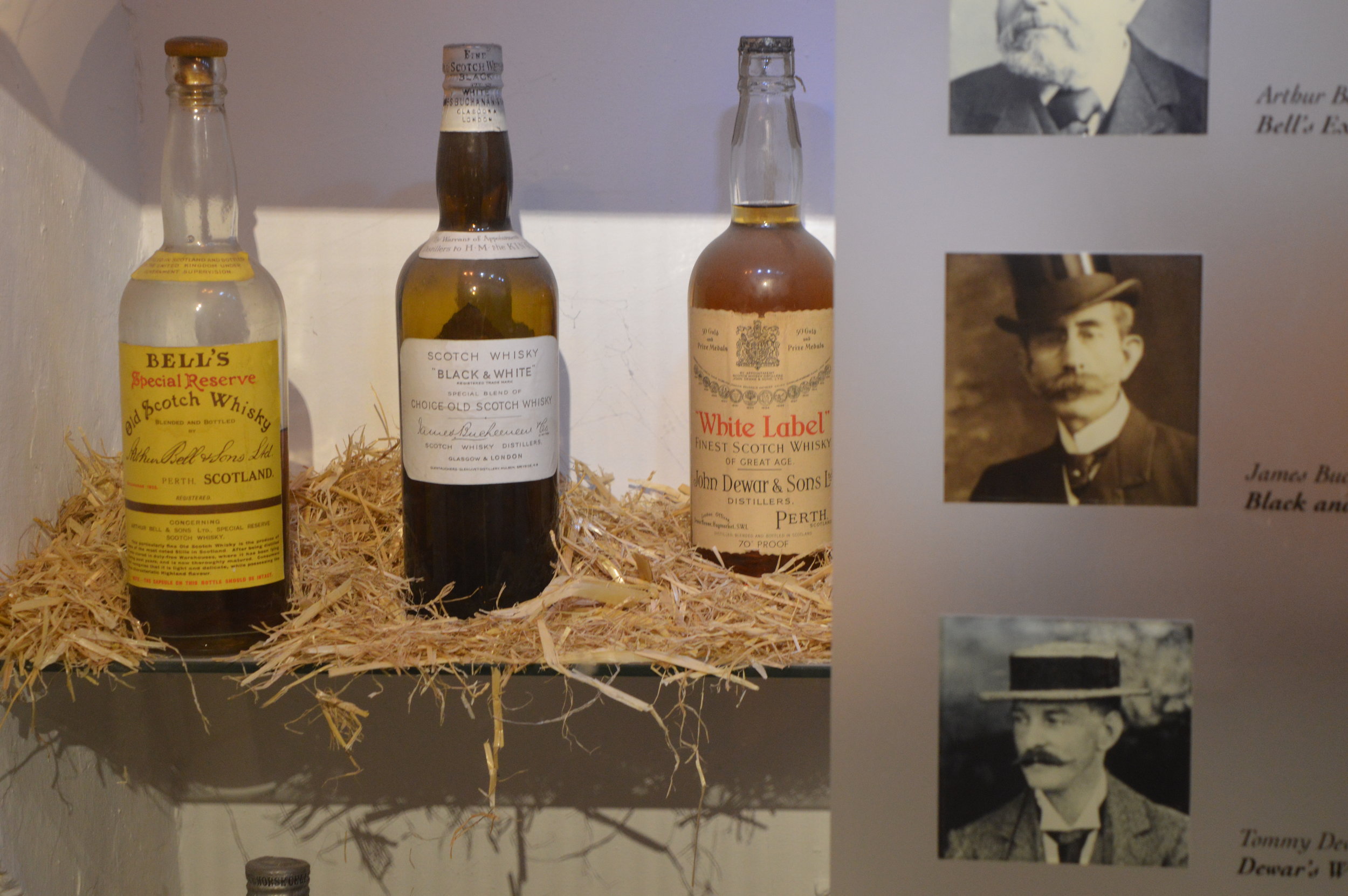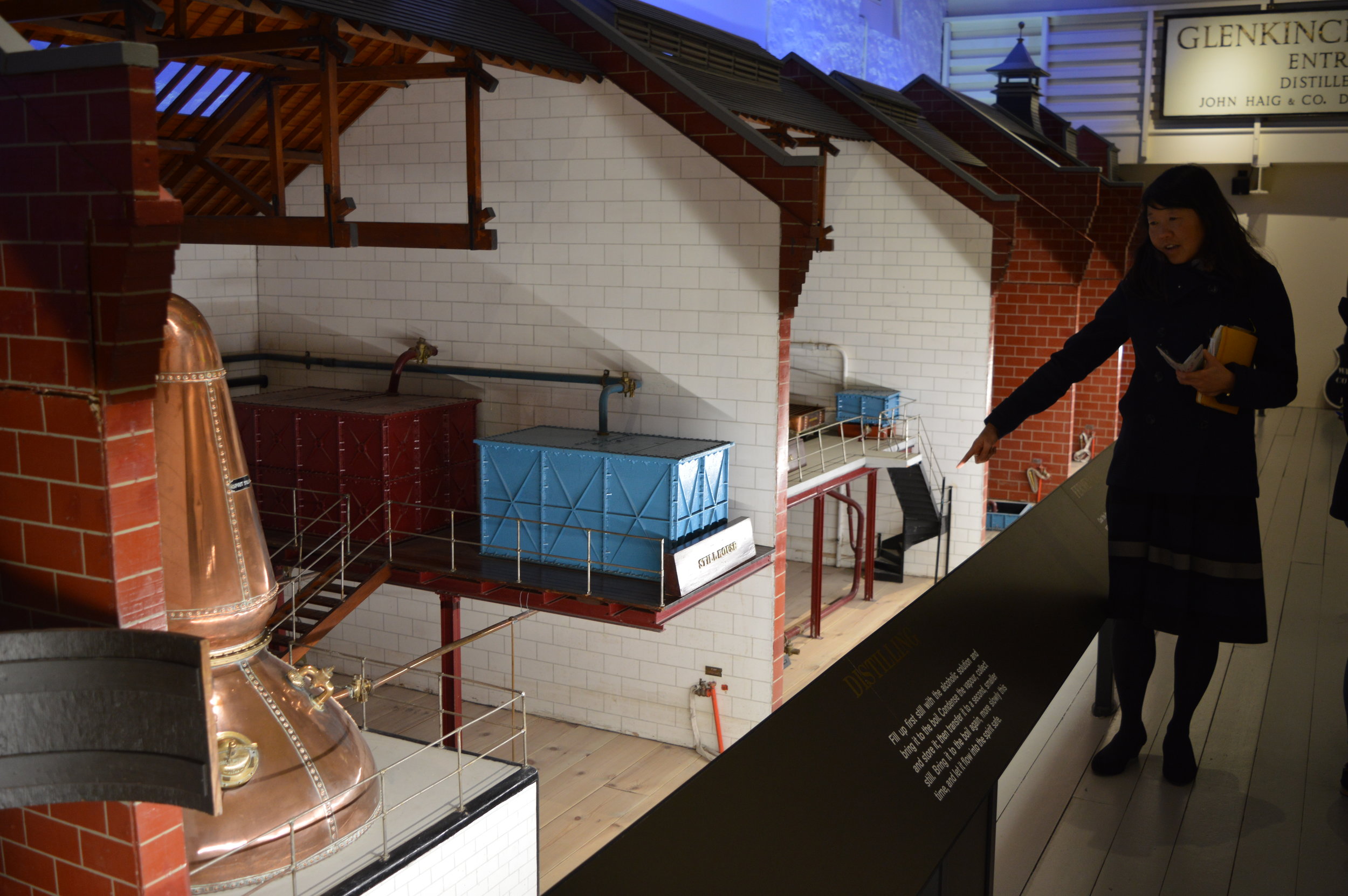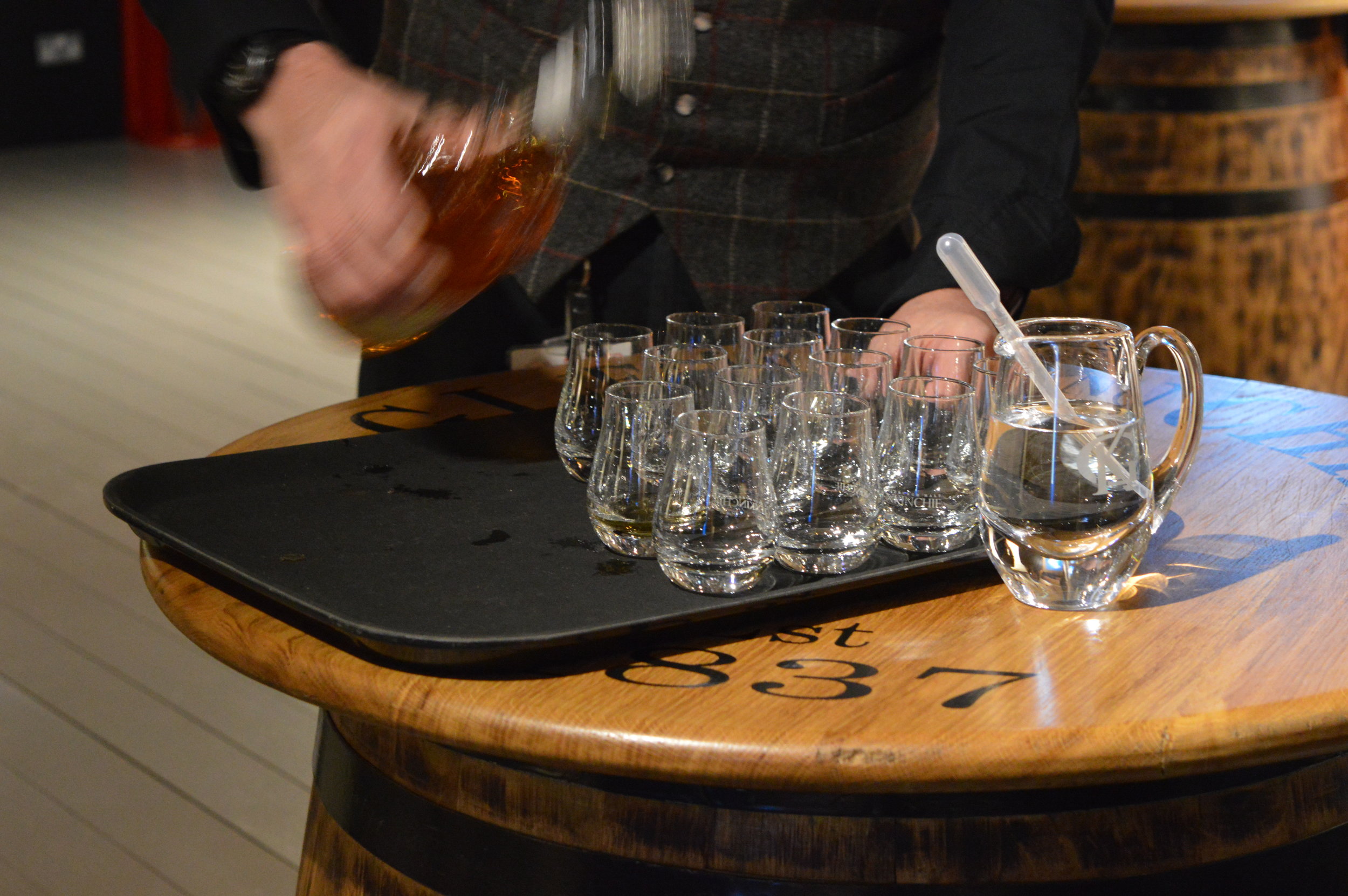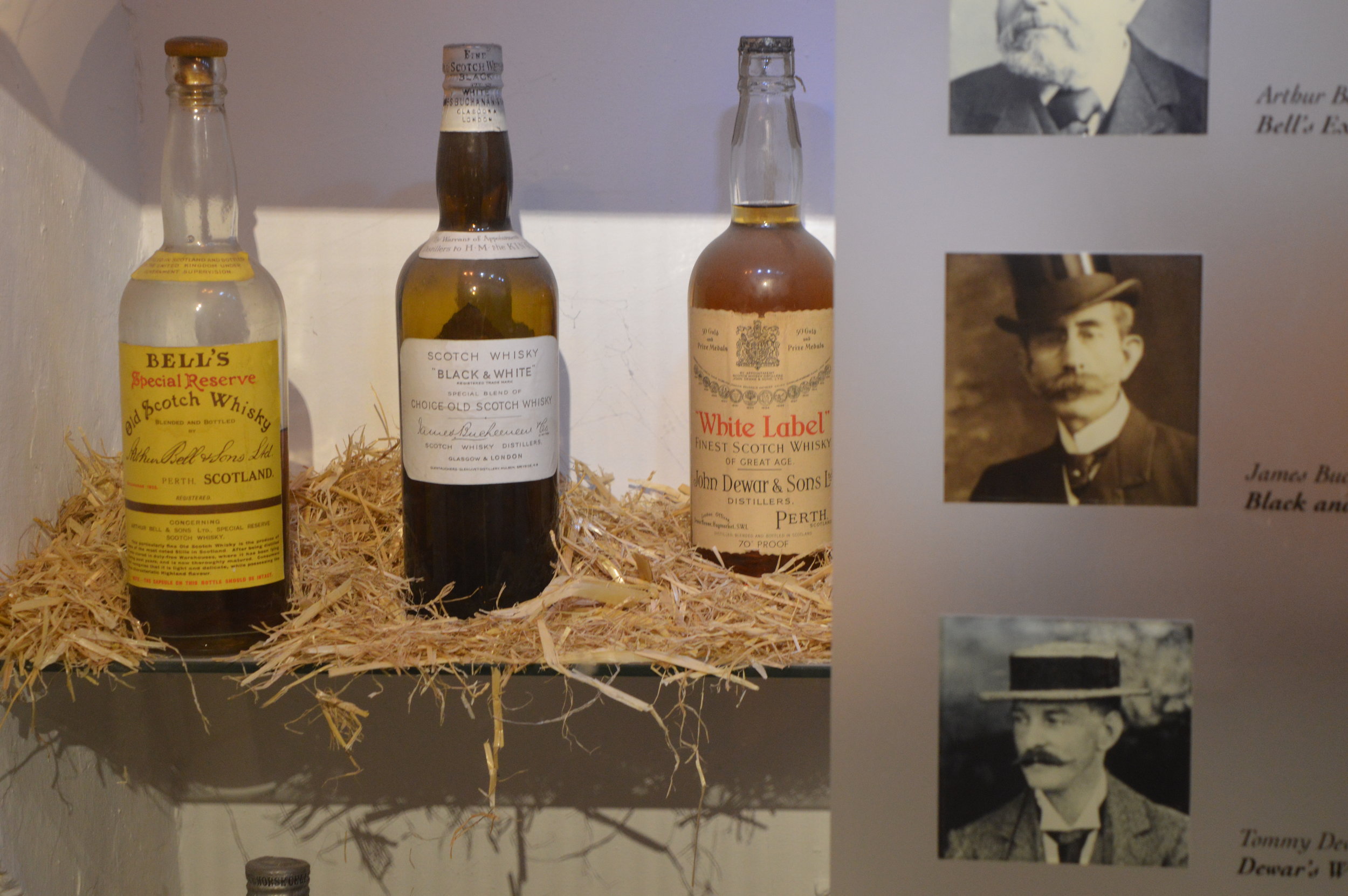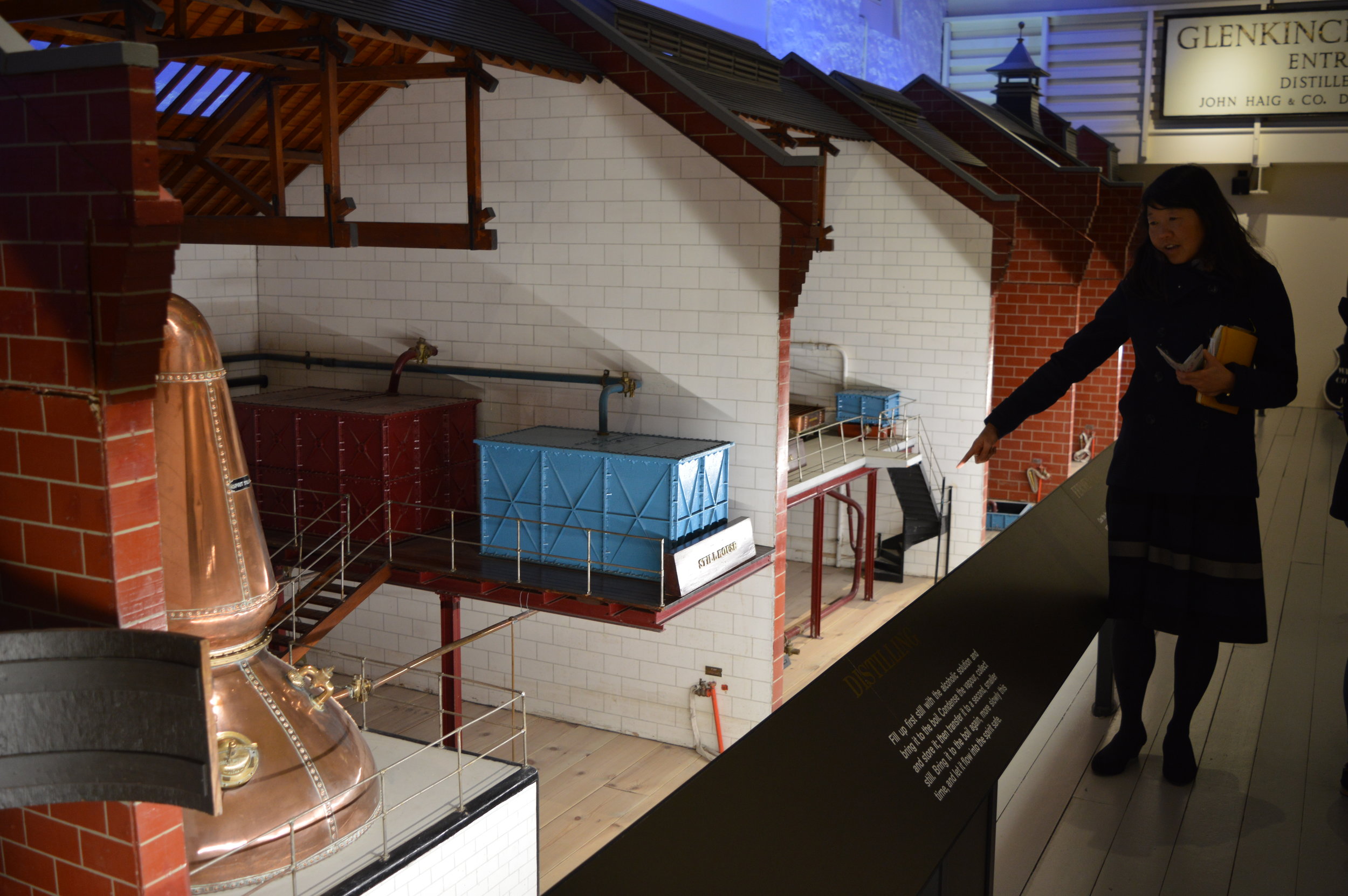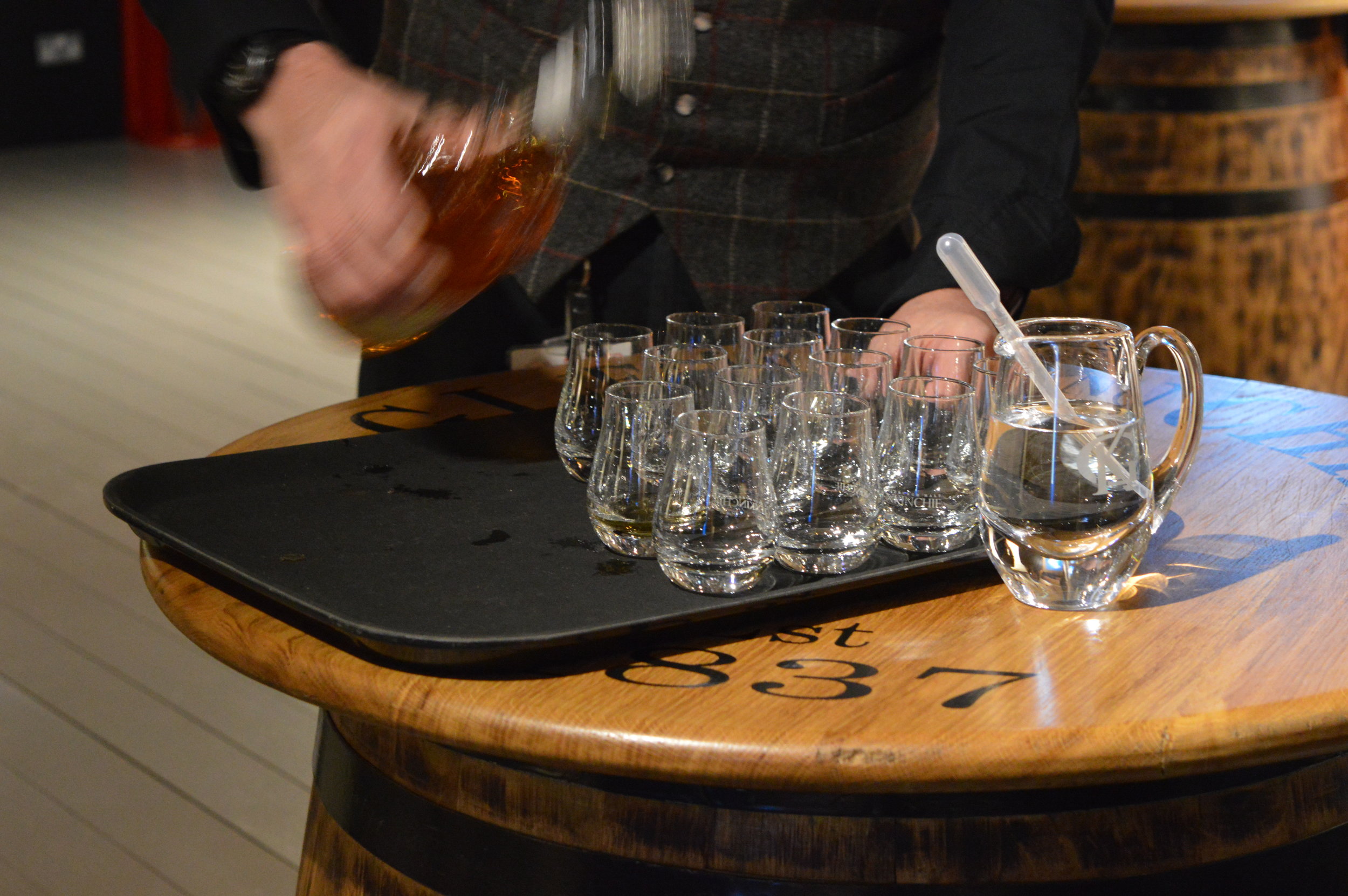 This afternoon, Annabel Meikle, Director of the Keepers of the Quaich, came to speak to us about her life in the whisky industry. Annabel began by working at the Scotch Malt Whisky Society (SMWS), where she developed her sense of taste and smell, and fully immersed herself in the world of whisky. Having previously worked at Valvona & Crolla (which we visited in October), she began the whisky and food pairings at SMWS, including pairing with cheeses from Barry Graham, who spoke to us a few weeks ago. From here, she became global ambassador for Glenmorangie, before starting consultancy work. Now she is Director of the Keepers of the Quaich, an international community of people who have been recognised for their outstanding contribution to Scotch whisky.
Having spoken to Annabel about our trip that day, she told us about the site where Glenkinchie mature their whisky, containing a whopping 8 million casks. We agreed that the number of bottles they are producing is quite phenomenal, however for many smaller companies, they are marketing a very unique profile, which Annabel likened to selling a perfume. Over her many years in the industry, she has written many tasting notes, which are quite unlike the comparisons to foodstuffs usually seen in descriptions on drinks labels. For example, she described Laphroaig as being like a "wet spaniel running along a sandy beach".
Annabel said that the Keepers of the Quaich are moving their focus to blended whisky, as 90-95% of the Scotch drunk worldwide is blended. Although she is all for innovation, she stressed the importance of keeping the quality of Scotch whisky, which is why the Scotch Whisky Association have strict rules over the produce. In contrast to what we were told at Glenkinchie, she said that of course it matters where the barley comes from. It is this quality that is valued around the world, and if quality stays high, the whisky industry will continue to thrive.
Tuesday 28th November
Origin, Quality and Standards
On Tuesday, we picked apart the complex issue of certification, looking into those little labels trying to persuade us to buy one product over another. These could include: protected designation of origin (PDO), protected geographical origin (PGI), Fairtrade, Soil Association, Red Tractor or a British flag. Their role is to create differentiation in the food industry and producers use them to get higher prices for their goods.
Do consumers really understand what these labels mean? Unless you are going to delve into a huge amount of research, it's likely you'll just buy one product over another simply because it is covered in stamps and stickers, suggesting that it is of higher quality. However, many small producers cannot afford this kind of certification, which of course doesn't mean that they are making a lower quality product.
In the morning, Jonathan Whitehead from Acoura spoke to us about their work as providers of risk services across the food and drink industry. Jonathan is an independent auditor and writes standards for new certification schemes.
Certification began after a report in 1965 into the welfare of farm animals. With the rise of the supermarket during the 1980s came the need for consistency and standards. In 1990, Scotland led the way with two companies that have since merged into Quality Meat Scotland (who visited us last week). In the mid-1990s, the Red Tractor scheme began in England. Health scares around salmonella, E. coli and mad cow disease have led to certification becoming ever more important to the consumer, and to the food industry. As Jonathan said, "Labels give you knowledge, and then you can make the decision". However, it is always the industry that takes a hit even if a case of campylobacter, for example, is caused by a consumer incorrectly cooking a chicken.
Acoura work by starting with the final product and tracing back throughout production to find any gaps. Jonathan spoke of several challenges with certification, such as the fact that a label can be stuck on a product even if only some of the ingredients comply with those standards. Language barriers have become an issue now that many farm workers, fruit pickers and vets are in the UK from overseas, meaning standards have to be carefully translated. In restaurants, much of the information you would usually be aware of if buying a product in a supermarket is hidden.
We moved on from this to look at food safety. It's not hard to find recent stories about food scandals and health scares, but how much have they been exaggerated? Sometimes we may think that many of these cases are linked to processed foods, such as in the case of the horsemeat scandal, however raw foods can be just as dangerous. Harmful microbes, such as campylobacter, salmonella, listeria and E. coli, could be found in large amounts; environmental contaminants, such as glyphosate and other pesticides, could have been used in farming practices; and natural toxins, such as glycoalkaloids in potatoes, could be present, which are particularly difficult to control.
Food Standards Scotland (FSS) are trying to protect the public from risk. They are a non-ministerial, evidence based body which started in 2015 when it separated from the Food Standards Agency (FSA) in the rest of the UK. Deputy Chief Executive, Elspeth Macdonald, spoke to us about their work and how trust from the public is really important.
Elspeth told us how the public can be misled by food labels, and gave an example of the difference between Smoked Scottish Salmon (salmon from Scotland) and Scottish Smoked Salmon (salmon smoked but not from Scotland). Food authenticity is of great importance to consumers, as people want to know what they're buying and they put a lot of trust in the certification. Like Jonathan from Acoura, she also mentioned the issue of labelling relating to only some ingredients within a product.
Dietary advice is a growing area within the FSS, especially in relation to obesity. Although Elspeth said that there has been a reduction in sugar levels in drinks, there is only so far that food and drink can be regulated.
This was of course a good opportunity to ask about the Errington cheese case (for more information, see my previous post), however unfortunately Elspeth was not keen to offer up much information. As an evidence based body, it was perhaps not surprising that she did not want to discuss the court case, which did not lead to any criminal charges being brought against the cheesemakers based on the available evidence. However, it would have been interesting to hear their view on the case to build up a balanced opinion after such a compelling and heartfelt argument from Barry Graham when he visited us last month.
It just goes to show that making decisions about which products are the most sustainable and the best for our health is a hugely complex issue, and unfortunately we can't just rely on those little stickers.
Photo credit: group photo by Vivian Maeda